Stephen Holmes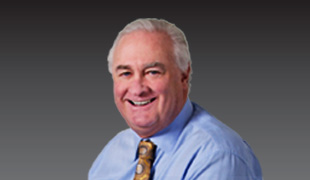 Stephen joined InterWest in 1989 as a general partner and, through 2015, was the firm's COO. In 2016, Stephen's role changed: As a "GP Emeritus," he is a consultant to InterWest.
In September 2016, Stephen received the National Venture Capital Association's (NVCA) first Industry Impact Award in recognition of his outstanding service and commitment to the VC industry through his work on the NVCA CFO Task Force. As the voice of the venture capital community, the NVCA advocates policies that encourage innovation, spur job creation and reward long-term investment in startup companies.
Previously he received the Private Equity International's (PEI) 2013 Private Equity Manager Leadership Award in recognition of his efforts in laying the groundwork on fair value reporting and elevating the role of back-office professionals within the industry. He was a frequent guest speaker at conferences hosted by the NVCA, Venture Economics, PEI and the International Business Forum. He coauthored the chapter on "Limited Partner Financial Reporting" for PEI's Investor Relations Manual (published in 2011).
In 2012, Stephen was appointed to the Securities and Exchange Commission's then newly-formed Investor Advisory Committee (SEC-IAC), and was reappointed for a second four-year term in July 2016. He completed his eight years of service in June 2020. The Committee was established under the Dodd-Frank Wall Street Reform and Consumer Protection Act to advise the Commission on regulatory priorities, regulation of securities products, trading strategies, fee structures, disclosure effectiveness, and initiatives to protect investors and promote investor confidence and the integrity of the U.S. securities markets. He was also a member of the SEC-IAC's Market Structure Subcommittee. As announced in the June 2015 Growth Capitalist, the Commissioners approved a two-year "tick-size" pilot program with the goal of improving liquidity for small-cap stocks. The tick-size pilot program began on October 3, 2016. Stephen had been a leading advocate of this program since 2013, expecting it to be a real victory for the entrepreneurial ecosystem, the American economy and the creation of attractive jobs.
From 2008–2012, Stephen was a director of the NVCA, and he was a founding member of its CFO Task Force, which was formed in 2003.
Stephen was appointed to the International Private Equity and Venture Capital Valuation Guidelines Board in 2008 and served for two terms (2008–2017). The IPEV Board was created in 2005 to develop and promote valuation guidelines and to provide guidance on the application of those guidelines to all worldwide stakeholders in the private equity and venture capital industry, including practitioners, investors, regulators and auditors. IPEV has also developed Investor Reporting Guidelines, which were developed and are intended to be used by both general partners and limited partners.
In 2004 Stephen became a founding member of the Financial Accounting Standards Board's (FASB) Small Business Advisory Committee, representing the venture capital industry. Stephen made news (as reported in Bloomberg's Bureau of National Affairs [BNA]) when he raised the issue of implementing fair value measurement and disclosures at the Committee's April 2013 meeting. After his plea for their review of the measure, FAF (FASB's parent organization) agreed to target this vital issue at its next post-implementation review. Fair value measurement had become a hot-button issue because of the extreme burden and cost that compliance has placed on the VC industry.
He was also a founding member of the Private Equity Industry Guidelines Group (PEIGG) in 2002. PEIGG, the private equity industry's first broad-based alliance, included general partners, limited partners and service providers participating in both the venture and buyout segments in the U.S. and overseas. The group's objective was to promote consistent and transparent valuation and reporting guidelines for the private equity industry.
Prior to joining InterWest, Stephen was vice president, finance and administration, of the highly successful venture-backed international manufacturer and marketer, Specialty Brands, a $140 million specialty foods company headquartered in San Francisco.
Stephen is a graduate of Lehigh University (summa cum laude, Phi Beta Kappa) and the Harvard Business School (with distinction). He is a member of Harvard's Hasty Pudding Club, which is the oldest social club in the United States. Prior to his business career, Stephen served as an officer in the U.S. Navy, where he volunteered for a one-year tour of duty in Da Nang, Vietnam.
Stephen's Buzz